EMCORE NEWSLETTER 9/11/23

JOIN US AT EMCORE QUEENSLAND FOR 3 DAYS OF LEARNING AND REVIEW
PLUS CARDIAC BOOTCAMP
We have 5 places left for the Airway Workshop– please hurry and book now. This year, our airway workshop, will be smaller, with direct teaching from Dr Kas and ample time to practice.

---
OXYGEN TARGETS POST CARDIAC ARREST

The purpose of resuscitation in cardiac arrest, is to restore oxygenated blood supply to the organs, most importantly the brain. What are the oxygen targets in cardiac arrest and post arrest that we should be aiming for?
Hypoxic ischaemic encephalopathy (HIE), which is neuronal death post cardiac arrest occurs early….as early as 5 minutes after blood flow is reduced. Certainly within 30 – 40 minutes irreversible damage is established and poor neurological outcomes are almost certain, if survival occurs.
In this podcast we discuss oxygenation and ventilation targets.
We have seen that endotracheal intubation confers little benefit over supraglottic airway or even bag valve mask ventilation. However this is mostly due to interruption to CPR whilst trying to intubate. With video laryngoscopy, we can intubate whilst resuscitation continues….But then what?
READ MORE
Join our podcast The EM Show on Spotify or Apple Podcasts
---
ECG OF THE WEEK
A 14 yo boy loses consciousness whilst climbing a wall at an amusement park.
His ecg is shown below.
Watch Dr Christa Bell present this case of a 14 yo boy is climbing a wall at an amusement park and feels dizzy and then loses consciousness. Ambulance services are called. He is lowered down and given CPR and has 2 shocks. His ecg is shown below. He does have an underlying condition of Catecholaminergic Polymorphic Ventricular Tachycardia. Christa will be back at EMCORE Queensland in January 24.
---
Reverting SVT: Do you know the Reverse Vagal Manoeuvre?
If you haven't heard of it, it's a great way for patients to revert themselves. We have the Revert technique, now this new technique, that I use a lot.
---
UPCOMING EMCORE CONFERENCES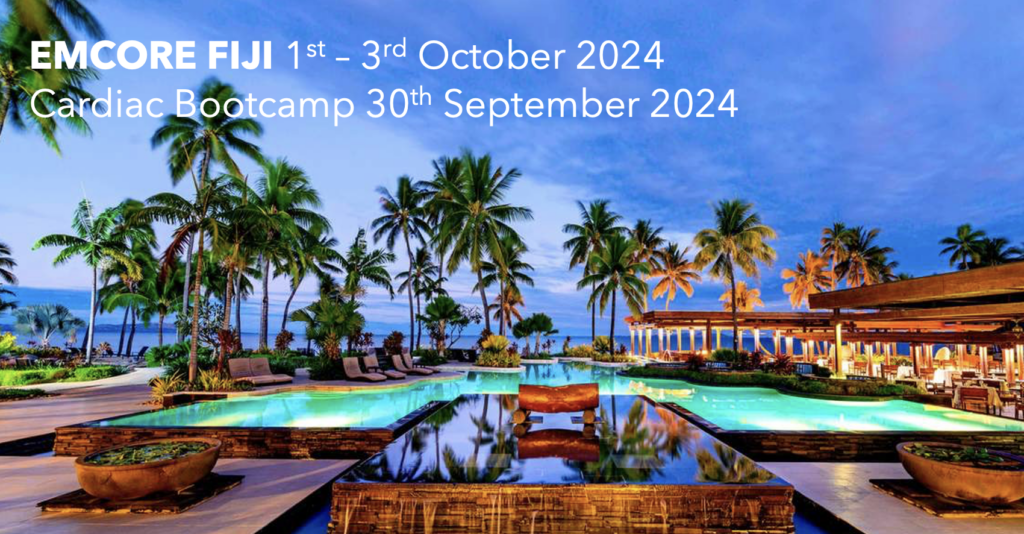 ---
That's all I've got for you this week.
"The knowledge You take into your shift DOES matter"