This Week's Newsletter is full or learning goodness!
A patient in VT, not responsive to Antiarrhythmics of Defibrillation. What did we do?
Posterior shoulder dislocation that won't reduce. What's going on?
Dr James Edwards reviews Aortic Dissection.
Plus 2 questions for the Fellowship Candidates, but anyone can try them
Enjoy

Less than 20 places left
JOIN US AT EMCORE QUEENSLAND FOR 3 DAYS OF LEARNING AND REVIEW
PLUS CARDIAC BOOTCAMP & AIRWAY

---
A PATIENT IN VT ELECTRICAL STORM
A 58 yo patient has called the ambulance, as he is having palpitations and is feeling unwell.
On ambulance arrival, he is having multiple short runs of VT. They become more frequent and longer in duration. They don't stop following Amiodarone or cardioversion.
The ambulance arrive in our Emergency Department. The patient is conscious. Below is his ECG.

What does the ECG show? Is it VT or SVT? What would you do now?
READ this Case and what we did as well as a rapid review of Electrical Storm.
Treatment is different for Monomorphic and Polymorphic VT, depending on the presence of structural heart disease.
Know when to treat with Amiodarone and when to treat with a beta blocker or Isoprenaline.
you can listen to the case and commentary on the EMCORE podcast on Apple Podcasts or Spotify
---
THE DISLOCATED SHOULDER THEY COULDN'T REDUCE. FIND OUT WHY.
A 52 yo patient presents following a fall onto the right outstretched hand. There is severe right shoulder pain and deformity. An X-ray is performed and there is evidence of a posterior shoulder dislocation.
Reduction is attempted but is unsuccessful. Why was this so? What do we need to do next?
This is an impacted posterior shoulder dislocation. Read more about it and see the CT scan here
---
AORTIC DISSECTION
Dr James Edwards from RPA in Sydney reviews Aortic Dissection. A free lecture for you to listen to, recorded at EMCORE Bali this year. James joins us at EMCORE Queensland with more great talks.
---
FELLOWSHIP STUFF
For the Fellowship candidates( anyone can try these) Written or OSCE, here are two exercises for you.
Question 1
Describe the methods you use for shoulder reduction. Include your preferred method and two others. For the written take 12 minutes to write as much as you can. For the OSCE, record yourself on your phone and speak on this for 7 minutes.
Read more on Shoulder dislocations here.
Question 2
Look at the ECG in the Electrical Storm Case and describe the ECG Findings. For the Written, in point form describe the findings and how you differentiate between VT and SVT. For the OSCE discuss as if you are teaching president how to interpret the ecg. Go to the blog on Electrical Storm and see the answer.
---
SEE YOU AT EMCORE
PICK AN AMAZING DESTINATION AND JOIN US!
EMCORE LONDON 26th – 28th June 2024 + Cardiac Bootcamp
EMCORE Fiji 1st -3rd October 2024 + Cardiac Bootcamp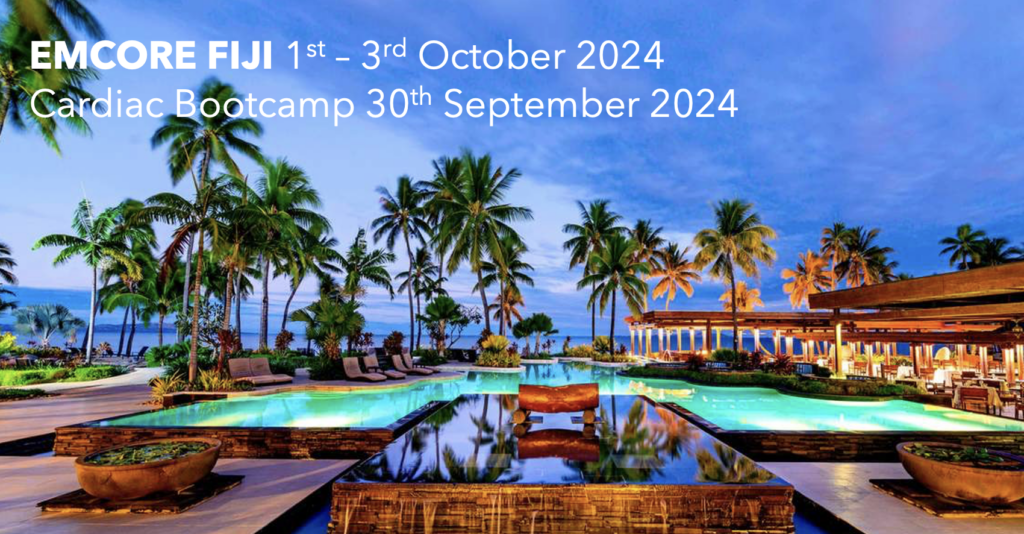 ---
Did you see our most recent blogs on Resus?
Join Us for the Online Written or a Face to Face OSCE Fellowship Courses
---
That's all I've got for you this week.
Take Care out there.
"The knowledge You take into your shift DOES matter"